Extension Publications Open House at Conference
We want to give everyone a heads up about a unique opportunity at this year's Extension State Conference. Working in partnership with our friends in CALS Communications, we will be offering a number of Extension publications – most but not all of which will be free of charge – to our county offices throughout conference!
Beginning Monday, Nov. 14, at 2 p.m. through Thursday, Nov. 17, at the close of conference, employees will be able to select from nearly two-dozen printed Extension publications.
Please find a complete listing of the publications below, along with the location, times and pricing where applicable.
WHAT:         Extension Publications Open House at Conference
WHERE:      Congressional Room (across from Capital Ballroom)
We ask that participants try to pick up their publications during the times listed below.
View the hotel floor plan map (Look for #3, the Congressional room.)
WHEN:

Nov. 14 – 2 p.m. to 6 p.m.
Nov. 15 – 10 a.m. to 10:30 a.m., 3 p.m. to 3:30 p.m.
Nov. 16 – 10 a.m. to 10:30 a.m., 11:30 a.m. to 1:30 p.m., 3 p.m. to 5:30 p.m.
Nov. 17 – 9 a.m. to 2 p.m.
The publications are available to all offices and employees. Be mindful of the space the box(es) will require in your vehicles (particularly for those interested in larger quantities). This information will also be accessible via our new app, which can be found here.
Here is the list of available Extension publications: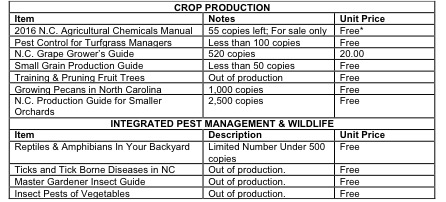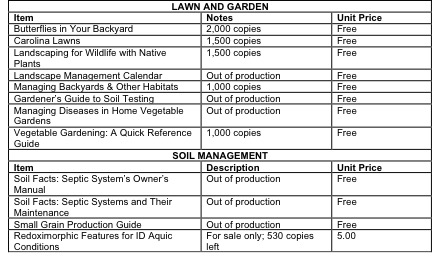 *The 2016 N.C. Agricultural Chemicals Manual will be provided to each Extension office at no charge. Given that the 2017 manuals are releasing, this is a one-time opportunity until they are all gone. The 2017 manuals will be $30 and will be available through UNC Press. More details are forthcoming. 
We hope you'll be able to take advantage of this opportunity, and that it proves to be a more convenient, cost-efficient means of acquiring Extension publications. Let us know what you think during conference!
Lastly, we'd like to extend special thanks to Carolyn Alvarado and the CALS Comm. team for their help in coordinating the distribution of these valuable resources to Extension employees.
Was the information on this page helpful?
This page can also be accessed from:
go.ncsu.edu/readext?434458