Mobile Markets
Introduction / Community Gardens / Pick Your Own Farms & Certified Roadside Farm Markets / Farmer's Markets / CSA's / Groceries & Co-Ops / Artisan Foods & Bakeries / Restaurants / Breweries & Wineries / Educational Resources
Mobile Markets
Mobile markets are an emerging form of market that brings fresh and often local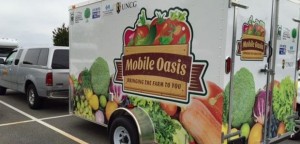 produce to neighborhoods and areas that these items would not be readily available. In Greensboro, several of our mobile markets provide access to low income communities and/or food desert areas.
Mobile Oasis Farmers Market
For more information contact: Janet Mayer
336-641-3361
Guilford County Department of Social Services Building
1203 Maple Street, Greensboro, NC 27405
Wednesdays from 10:00pm- 12:00pm
Warnersville Recreation Center
601 Doak Street, Greensboro, NC 27406
Wednesdays from 2:30 – 4:30 pm
Mobile Oasis brings fresh produce to communities that have difficulty accessing services. Customers also have the opportunity to learn about healthy recipes from on-site cooking demonstrations.
The mobile market provides services at their 2 locations: Greensboro's Department of Social Services and Warrensville Recreation Center. Accepts EBT/SNAP benefits.
North Carolina Farm Fresh Marketing
Division for the NC Department of Agriculture and Consumer Services
www.ncfarmfresh.com/Directory.asp
ncfarmfresh@ncagr.gov
The website provides consumers in North Carolina locations of different farms, roadside farm markets and farmers markets access to locally grown produce, plants, trees and herbs.
Was the information on this page helpful?